Car Installation Kit
Toyota Corolla Car Radio Dash Kits
Brand :Yelew
Product origin :China
Delivery time :3-20days
Supply capacity :300+ pcs in stock
3D digitally designed
Factory-style texture
Constructed of high quality, high heat, automotive grade ABS plastic
Designed with precision tolerances, so the kits match the factory dash contours perfectly
Precision brackets & tabs make the installation easy and secure
100% satisfaction guaranteed
Toyota Corolla Car Radio Dash Kits
Features:
Color: Black
Designed and manufactured with precision tolerances
Gapless fit between the dash and the kit
Painted to match factory dash color
Factory matched texture style
High-grade ABS plastic construction
Expertly crafted from superior materials
Provides exceptional reliability
Ensures everlasting service life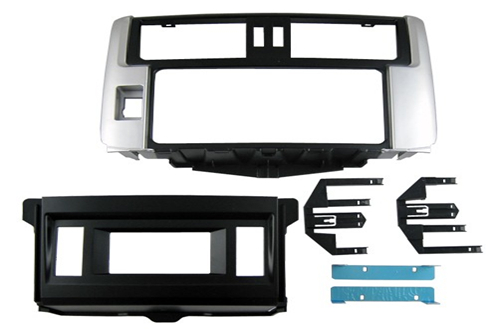 Single/Double DIN Black Stereo Dash Kit by Yelew Electronics. Used to install a universal single or double DIN stereo which is approximately 2" or 4" high. When you need to install a double-DIN radio or single-DIN radio with a pocket in the dash of your vehicle, this stereo dash kit is what the doctor ordered. Made of premium quality ABS plastic, the product ensures extra durability for long-lasting service life. Designed to provide a precise fit, this kit will fit the factory dash contours ideally, with no gaps between the dash and the kit.
Notes:
If your aftermarket radio doesn't fit the kit opening, you may use a large flat file to open the kit up until the radio is able to slide through properly.
Warranty

Metra warrants that its Products will be free from defects in material and workmanship for 1 Year from the date of purchase by the Original Purchaser. This warranty does not apply to any Products that have been subjected to misuse, mishandling, misapplication, neglect (including but not limited to improper maintenance), improper installation, or alterations.
Magnuson-Moss Warranty Act:Legally, a vehicle manufacturer cannot void the warranty on a vehicle due to an aftermarket part unless they can prove that the aftermarket part caused or contributed to the failure in the vehicle (per the Magnuson Moss Warranty Act (15 U.S.C. 2302(C))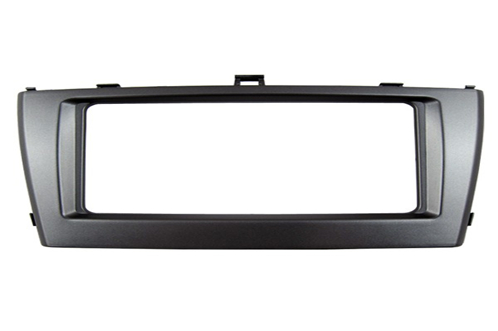 When you want to replace your factory stereo with a custom one, your should figure out whether you need a single-DIN or double-DIN stereo and stereo dash kit. To do it, you should measure the faceplate of your current head unit. If it measures roughly 7" long by 2" tall, then it's a single-DIN head unit. If it measures roughly 7" long by 4" tall, then it's double-DIN. The single-DIN stereo can be replaced with another single-DIN unit, while the double-DIN stereo can be replaced with another double-DIN unit or a single-DIN one with a pocket.
This stereo dash kit allows for the installation of both double-DIN stereo and single-DIN one with a pocket. This product is designed with exacting tolerances to match the factory dash contours perfectly, with no gaps between the dash and the kit, to make a custom stereo look like OEM. From basic to custom installs, perfection starts here. Now you can install any DIN-compliant stereo you want and not have to worry if it will fit the panel. With this stereo dash kit, you'll get nothing less than easy and fast installation.
Get the latest price? We'll respond as soon as possible(within 12 hours)